Design Services in West Hartford, CT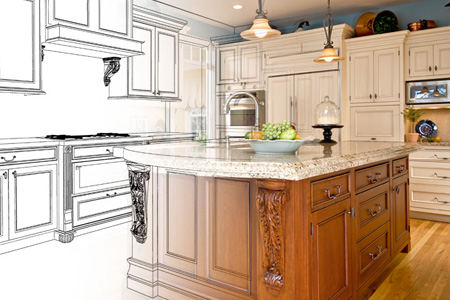 At Holland Kitchens & Baths, our design team has the experience, knowledge, and creativity to make your project a statement of your own personal style. If you are looking for an original and different design, you will truly appreciate the design team at Holland Kitchens & Baths. We can provide much more than innovative kitchen and bath cabinet plans. From creating a unique tile backsplash to helping you brighten your space with a new electrical lighting plan and designing an addition for your home in order to maximize space, we provide fully comprehensive design service. Starting with conceptual idea drawings, we will guide you through the entire design process including helping you decide on all the different products along the way. Let Holland Kitchens & Baths make your dreams a reality.
---
Cabinet Plans
If what you need is cabinetry for the kitchen, bathroom, or any room in the house, we provide the design service you need. Along with kitchen and bath cabinetry, we have many years of experience in space planning and cabinet design for other areas of the home such as an office, library, fireplace, home entertainment center, or laundry room. Once you are happy with an overall layout, we will help you decide on every cabinet and every detail, such as the style of moldings or the cabinet finish, until you are completely satisfied with the final plans. Those final plans will typically include cabinet plan, elevations, soffit detail (which shows moldings), and any other detail plans required. See some examples of our design plans here.
---
Kitchen & Bath Remodeling Design
Kitchen and bath design is our specialty. It all starts with space planning and making sure all the components in the room work together and the traffic flows smoothly. When you engage us to be your remodeling contractor, we will work with you on every design detail required to complete your project. These design services will not only include the cabinet plans as described above, they will also include other services you may need such lighting design, drafting countertop plans, creating plumbing, electrical & mechanical plans or tile plans for your backsplash, shower or flooring. We will also help you in selecting all required materials such as flooring, countertops, tile, lighting fixtures, and plumbing fixtures. As your remodeling specialists, we will be there to assist you through the entire project, from concept plans to completion. See some examples of our design plans here.
The Plans We Provide:
Conceptual floor planning
Cabinet plans with perspectives & elevations
Tile plans for backsplash, shower or flooring
Countertop plans
Remodeling plans
Mechanical plans
Lighting layouts
Foundation plans
Structural section views
Exterior elevations
Assorted detail plans