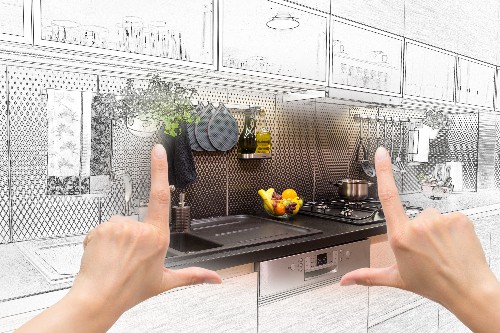 The vast majority of kitchen designers are affiliated with a company that will provide the materials and labor to complete your project. So when you pick a designer, just as important, you are also picking a kitchen company. Take the time to find the right kitchen designer and company for your remodeling job.
The right company is one that specializes in kitchen remodeling, one that has a strong reputation in the community for being professional and doing good quality work. They know the latest products, what the do's and don'ts of the industry are, and will be better equipped to offer you suggestions to make your new and improved kitchen more enjoyable and functional for your family's needs.
1. They are Excellent at Home Alterations
If your project includes serious alterations like removing walls, installing windows, or major electrical changes, make sure that completing home alterations is a strength of the company. There is a big difference between these types of home alterations and simply replacing cabinets and countertops! You should also verify that they control this work 'in house' and are not simply passing this part of the project off to another contractor that you could end up dealing with.
2. Check Their References and Previous Work
Take the time to check references for projects they have completed. Call these references and see what they have to say, both positive and negative, about the company and their experience working with them. If possible, visit these completed projects and see first-hand the quality of design, materials, and workmanship. Remember, verifying that you are working with a reputable company is key to reducing your stress during the remodeling process!
3. Ask About Insurance Coverage
How does the company take care of its workers or handle liability? Make sure the company has worker's compensation and general liability insurance and that the amounts of coverage are adequate to cover any potential damage to your home. If you want, they should be able to provide you with a certificate of insurance.
4. Feel Good About Your Construction and Design Partner
Most of all, you must feel comfortable with and have confidence in your kitchen designer and the company. Your designer should be a seasoned professional as well as a good listener. He or She will have more influence on the end result of your project than any other person. It will be their foresight, preparation, and attention to detail that will have the most to say about how smoothly your project goes.
Choose an Experienced Company
Holland Kitchens LLC is a kitchen and bath specialist with a state of the art showroom in the Home Design District of West Hartford. We have over 40 years of experience in home remodeling and alterations. Our staff, which includes an innovative design team, can take your project from concept to completion, all under one roof.
Give our design team a call today at (860) 236-3111 to talk about your project.