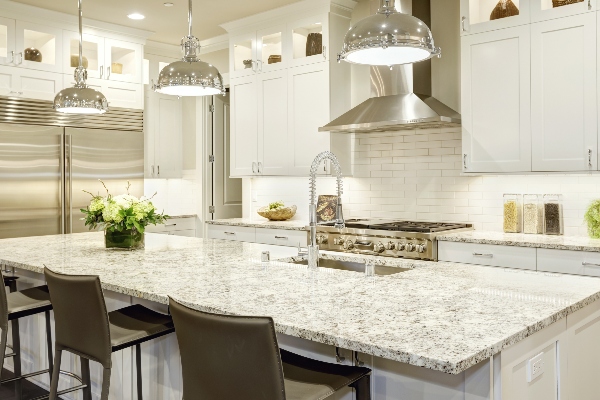 Kitchens are all about the surfaces they offer. A solid, sustainable surface for your kitchen countertop can make your cooking, cleaning, and entertaining much easier. When your kitchen countertops get scorched, scratched, or chipped, it is time to start considering a replacement.
As with most home projects, finding a new kitchen countertop material that works for you and your family can be overwhelming. If you don't know where to start your search, the experts have Holland Kitchen & Baths have you covered.
This article will help you learn about the unique benefits of various countertop types so you can pick the right material.
1. Quartz Countertops
One of the hottest materials on the market right now, quartz, is manmade but many designs look like natural stone. The upside of Quartz is it requires less maintenance, it is the most resistant against stains and the toughest against scratching. The low level of maintenance that quartz requires makes it great for families with busy lives. One word of caution though. You need to be careful with putting hot items on Quartz as the heat can cause damage so always use a heat pad or trivet.
2. Granite Countertops
Because granite is a product of nature, the slab design will be one of a kind. Many of the designs cannot be replicated with a man made quartz. Choose the polished, flamed or honed finishes to create different looks. Most heated pots and pans won't harm your granite countertops. Granite comes in many different densities with the densest ones being the most resistant to staining & scratching. Sealing is a maintenance issue that granite requires and the less dense granites will require sealing more often. All in all, the natural beauty of granite is the biggest selling point.
3. Limestone and Marble Countertops
It doesn't get much more classic than the look of limestone and marble. One of the most sought after looks in countertops is Carrara marble. But if you use these materials you need to be careful as they can be porous stones susceptible to staining and etching. That said, they still have many great uses such as decorative surfaces in a bathroom or foyer flooring and even the exterior of buildings.
4. Laminate Countertops
Laminate is one of the least expensive types of kitchen countertops, both in the material and the cost to install. With new printing capabilities, you have more options than ever for the look of your countertops. Be careful not to cut directly on top of your laminate countertop as this will damage the surface permanently.
Partner with Contracting Professionals for Your Kitchen Countertop Installation
We hope this overview gave you some ideas on the type of material that would be best for your kitchen remodeling project. When your home needs some work, make sure to partner with professional contractors to get the best possible options for your home. Holland Kitchen & Baths has been creating award-winning designs since 1986. Give us a call today to chat through your goals.