Originally posted on 04/26/2017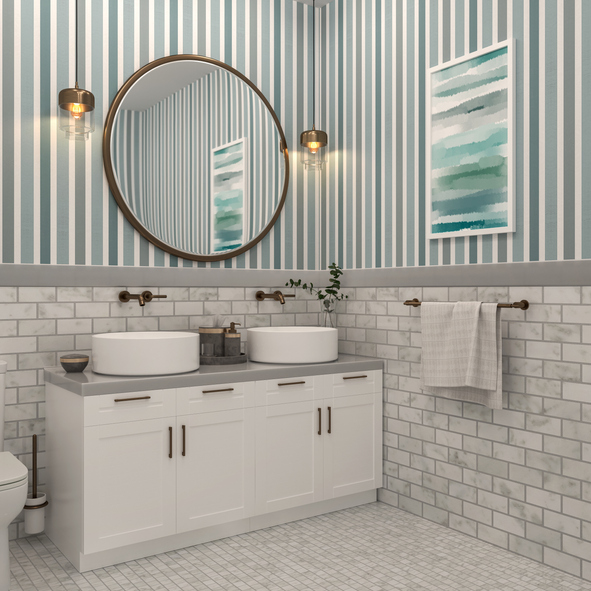 For most people, bathrooms are a place to relax and enjoy some peace. It only makes sense that you should remodel your bathroom with luxury so you can enjoy the small space. Below, we have listed just a few of the latest trends in bathroom remodeling.
Mediterranean
Having a Mediterranean-inspired bathroom is on-trend right now. Try to include tiles that are metallic or terra cotta colored to really bring the feel of old-world Morocco, Spain, or Portugal to the room. Mosaic tiles can add an element of style to the bathroom. However, you don't need to go overboard with them. A simple small mosaic in the shower can go a long way and act as a focal piece in the room. Arabesque tiles are a great way to really give your bathroom a Mediterranean flare.
White-on-White
There is something elegant about a white-on-white bathroom. The clean, crisp color is on-trend now, from white counters to backsplash to the flooring and tub surround. Try mixing in different shapes and sizes of white tile. Thin subway tile looks great as a backsplash. Using large white floor tiles can give the impression that the bathroom is larger than it actually is. Also, try incorporating different shapes and sizes for tiles in the shower to give an element of interest while keeping the color pallet all white.
Reclaimed
Reclaimed wood products are all the rage right now. Having reclaimed elements can give your space a certain rustic feel. Consider including some reclaimed pieces in your bathroom also. Remember, you can make a bathroom vanity out of just about anything, like an old dresser or bureau. A sink bowl doesn't need to be a traditional sink but can be any type of modified vessel that can hold water. Get creative! There are plenty of fun, non-conventional and recycled materials that you can include in your bathroom.
Choose Holland Kitchen and Baths for Your Next Remodeling Project
Trends continue to pop up and fall off. The biggest importance for construction trends is to give you options for your own remodeling projects. If you're looking to spruce up your bathroom or kitchen, contact the team at Holland Kitchens & Baths today for bathroom renovation services and custom kitchen remodeling services.