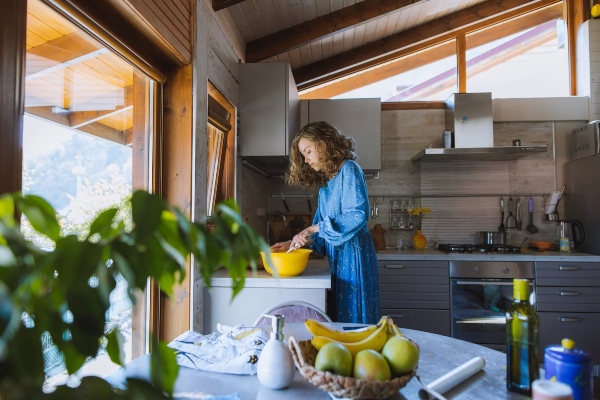 While a small kitchen renovation can be completed with a budget of $4,000 or less, the average kitchen remodeling project costs between $12,500 and $34,900. While a well-crafted kitchen can last up to 20 years and yield an impressive return on investment, it is undeniably one of the most expensive renovation projects homeowners will have to face. So, it is no surprise that you wish to avoid common remodeling mistakes!
In this guide by the design experts at Holland Kitchens & Baths, we will review the most common mistakes to avoid when renovating your kitchen.
Overlooking the Importance of the Work Triangle
Undeniably, each kitchen is used differently. However, whether you wish to install a professional kitchen or a small place to prepare your family meals, you should not overlook the triangle rule of workflow.
The kitchen triangle rule creates a circulation system that connects the sink, stove, and refrigerator. Within a kitchen, this system makes the space far more efficient, safe, and streamlined. Depending on your personal needs and kitchen space, the triangle can be bigger or smaller or connect other areas of the kitchen you often refer to.
Underestimating the Importance of Light
After the bedroom, the kitchen is where we spend the most time during our time at home - just under 5 hours per day on average! And yet, most kitchens don't have any source of natural light coming through.
When redesigning your kitchen, don't cover up any window that is already present, and enhance the natural light coming through them by swapping the curtains and placing reflective surfaces in strategic locations. Additionally, make sure to add plenty of task lights around the kitchen areas to minimize energy consumption while making the space more efficient to cook in.
Wasting Storage Space
If there is an area of the house where we all feel like we need more space, it is the kitchen. And yet, in most cases, the space is already there, but homeowners misuse it! For example, look at the cabinetry corners around the kitchen and you will notice that back sections are barely used. High rise and overhead cabinets are also not ideal!
Instead, opt to add smart cabinetry, a pantry, and kitchen accessories below your waistline and make sure everything is within reach when cooking. This will help you avoid kitchen incidents as well!
Cutting Corners on Ventilation
From a chimney to vents, your kitchen needs a ventilation system - for more than one reason!
In open-air spaces, you won't want smells and odors to spread around the house
Kitchen operations can produce high levels of moisture, vapor, and humidity, which can end up causing structural damages
Smoke and vapor can affect your kitchen's new look
Remove pollutants and hot gasses from indoor air
Opting for a Standard Design That Does Not Cater to Your Needs
Each household is unique, and so your kitchen area should be. Whether you love to cook alone or you often share the kitchen space with your family, you should invest in an ad hoc design that caters to your specific needs. For example, if there are kids in your household, you might opt for secure appliances, locks, and accessible spaces. Alternatively, if you have specific accessibility needs, you can create a custom space that makes all tasks within easy reach.
Partner with Design and Contracting Professionals for Your Home Kitchen Renovation
There is a lot to consider when putting together your kitchen renovation plan. It's best to put the effort into the planning process for your renovation as emergency changes during the construction can lead to your project costing more overall. Working with design and contracting professionals experienced in kitchen renovations, like those at Holland Kitchens & Baths, can help you avoid mistakes in your planning and building phases. Give our team a call today to discuss your project.