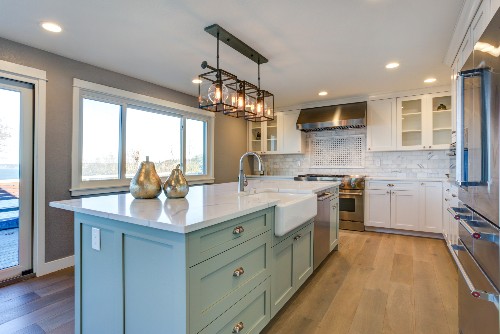 The kitchen brings people to gather to prepare and enjoy food. Whether grabbing a quick snack or putting together a large meal, this is an important room to have the way you want it. A kitchen island can help you have space to spread out or speed people through the room more efficiently. Consider the following when planning out your kitchen remodeling project.
1. Kitchen islands are popular with buyers
Kitchen islands continue to be popular. According to The National Kitchen & Bath Association (NKBA), having a kitchen island is important for 98% of those surveyed with medium and large-sized islands ranking as the most desirable.
2. Design your island to keep things moving
A goal of a kitchen island is to keep people moving through the area. Make sure there is at least 36 to 48 inches around the island. This space will help people get in and out with what they need. Either cooking or grabbing food, space is important.
3. Consider seating when measuring
Using your island as a relaxed dining area is another popular trend. Plan for enough sitting room by leaving at least 24 inches for each person to sit. This space allows enough room for people's body and personal space. Don't forget about the legroom! Measure out at least 13 inches between the bottom of the counter and where your family's knees will be.
4. Choose an open design theme
The point of the kitchen island is to open up your room and allow energy and people to move fluidly. Keep that theme going in the elements you choose for your island. Open shelving offers you the chance to display heirlooms or store and easily access dishes. Plus, this saves on cabinetry costs.
5. Get Creative with your shapes
The traditional rectangle kitchen island is far from the only option you have for your room. Think about what will work for you, including an L or T shape. Some people even go for two separate islands in their kitchens.
6. Think of the right spot
Just as with the shape, the location of your island can be tailored to what works for you. The center of the room might work. But a food prep island with a small sink that is closer to the refrigerator or a clean-up area near the dishwasher might be better.
Get the best design with the right kitchen and bath contractor
If you find yourself stymied when you think about the perfect design of your dream kitchen, you should consider getting professional help. The options are endless when you partner with the right contractor to bring your vision to life. The professional team at Holland Kitchens & Baths has experience designing and building kitchens tailored to the individual needs and wants of our clients.
Check out some of our work or give Holland Kitchens & Baths a call today at (860) 236-3111 to chat through your options.