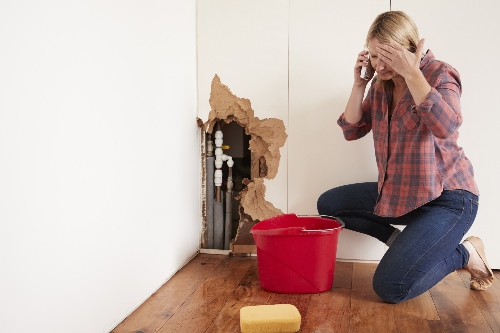 Summer is a great time to get some work done around the house. Especially with the social distancing guidelines, you can take this time to do some repairs or maintenance work that has backed up. Going with plumbing experts like those at Holland Kitchen and Baths for your remodeling and bathroom installations will always be our suggestion, but we know some people want to give their home a DIY shot.
If you choose to do the work yourself, make sure you know the plumbing code issues that are out there. Violating plumbing codes will eventually cause you trouble - costing you time and money - by forcing you to bring your home "up to code" when you want to sell. In the short term, ignoring or going against some plumbing codes can cause some issues in your plumbing.
Don't worry; we have you covered. Keep reading to learn about the most common plumbing code violations that you should keep in mind when working on your home plumbing system.
Improper Materials
There are materials you can and cannot use to keep your home up to code. Just because a material might seem to work now, there could be problems ahead. Rubber fittings and corrugated piping are two materials you should avoid. Make sure to do your research before installing new fittings, pipes, or other parts into your plumbing system.
Improper Sink Trap Installation - Bathroom or Kitchen
Get the right type of sink trap, or you could be in trouble. There are code violations for using the wrong type of sink trap in your bathroom or kitchen. Stay away from S-traps. Make sure the trap you install is venting.
Poor Sizing for Drainage Piping
Drains need a specific size of pipe to work properly. Problems with code violations come up if the pipe is too small for the drain. Rarely, there are pipes too large for a drain. Ensure your piping is in the sweet spot and made to be the right size for the drain you attach it to.
Not Enough Room Around the Toilet
Everyone wants to be comfortable when they are using the toilet. There are minimum clearance requirements around a toilet for your bathroom to follow plumbing codes. This spacing is even more important if you decide to set your toilet off in a nook in the bathroom. Keep your vanity or other bathroom furniture spaced out correctly as well. Make sure to look up the standards in your area space requirements so you can be both comfortable and safe from violations.
Improper Drainage Pipe Sloping
There is a right way to set up the slope grade for drainage pipes. When set correctly, The sloping will help you prevent clogs and keep everything flowing the way it should. There may be different slope requirements in your area, but most times, between 1/8" and 1/4" per foot is a good standard.
Bathroom Design, Remodeling, and Installation Experts
Use these common code violations to guide your home repairs or installations. Your home should be a comfortable place, and that includes your plumbing. If you run into problems during your DIY project, or you are ready for professional help, consider the bathroom installation and remodeling experts at Holland Kitchen & Baths. We can help you redesign and layout the bathroom you have always wanted.