Originally published 07/25/2019. Last updated 07/20/2023.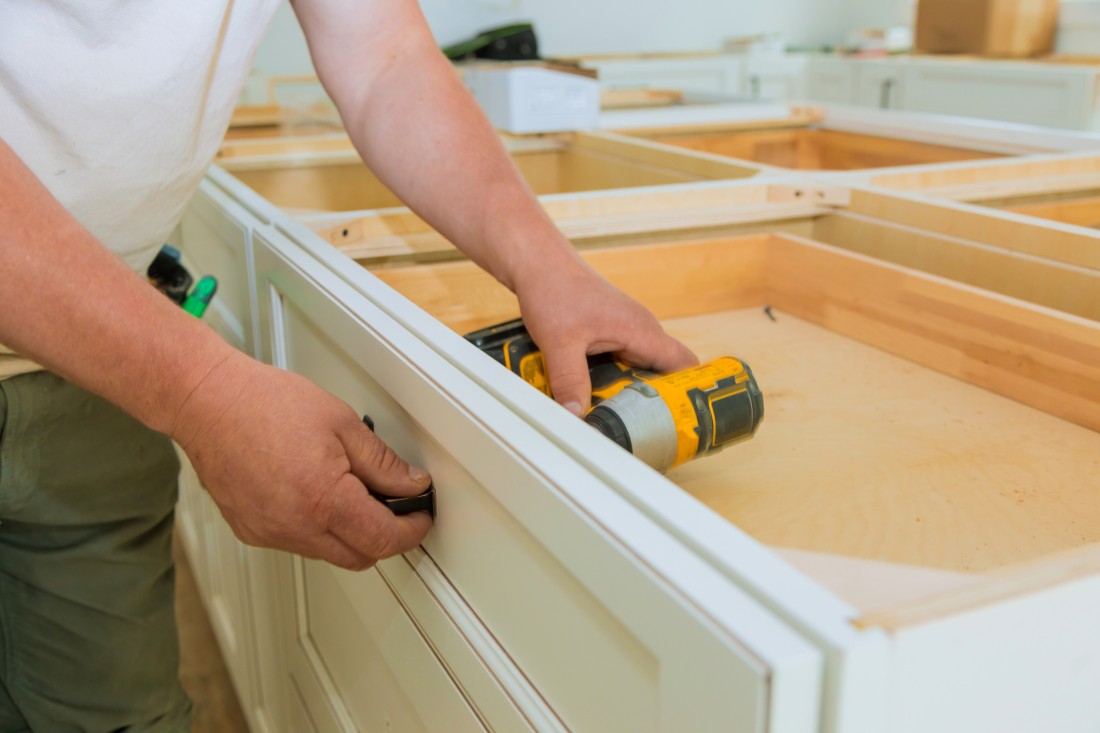 When it comes to kitchen remodeling projects, the heart of your home truly lies in the details. And what detail is more pivotal than your kitchen cabinets? These cabinets go beyond storage, shaping the very identity of your kitchen. They're not just functional–they define how you cook, gather, and live in your space.
As you embark on your kitchen remodeling project, these cabinets become a canvas of style and functionality. Discover the advantages of enlisting professionals for your kitchen cabinet installation, making your project seamless and impactful:
1. High-Quality Workmanship
Experienced in the nuances of kitchen remodeling trends, professional cabinet installers adeptly navigate the intricacies of any kitchen layout. Professionals handle uneven walls or complex designs with finesse, ensuring a custom fit that blends seamlessly with your vision. From small kitchen renovations to expansive kitchen islands, a professional installer considers every detail to create a harmonious space.
2. Reduced Costs in the Long-Term
While a DIY approach might tempt as a cost-saving measure, it often leads to unexpected expenses. Acquiring specialized tools for your kitchen remodeling project can strain your budget, not to mention the effort of sourcing them. In contrast, skilled installers arrive equipped with the necessary tools and expertise, circumventing costly errors that DIY ventures can entail.
3. Regulated Safety Measures
Embarking on kitchen and bathroom remodeling projects involves maneuvering heavy materials, which can lead to accidents and injuries. With professionals at the helm, you prioritize safety and well-being. Experts handle every aspect of the kitchen cabinet installation, ensuring a smooth and secure process.
4. Easy Clean-Up Process
From kitchen islands to small kitchen renovations, each project leaves its mark. The aftermath of DIY efforts often demands meticulous cleanup. However, with professionals in charge, the transition is effortless. They expertly manage debris removal and disposal, leaving you with a fresh canvas for your kitchen countertops and renewed bathroom spaces.

Why Choose Installation Services from Holland Kitchens & Baths
At Holland Kitchens & Baths, our commitment to excellence extends beyond design and trends; it encompasses flawless execution too. When it comes to kitchen installation services, we're proud to set a benchmark in the industry. We ensure your vision seamlessly transforms into reality.
We leave no detail unattended, even when crafting a cabinet layout that maximizes space efficiency in small kitchens. We can execute the installation of countertop materials such as laminate, stainless steel, marble, granite, and quartz.
Cabinet Installation that Reflects Perfection
Our professionals specialize in precision cabinet installation, handling elements like face frames, filler strips, and corner cabinets. The synergy between the top and bottom cabinets harmonizes flawlessly. We always create an aesthetic balance that elevates the visual appeal of your space.
Our white kitchen designs exude timeless elegance. And, we incorporate open shelving, transforming this area into functional focal points that draw the eye.
Unveiling Small Kitchen Remodel Brilliance
Small kitchens are not limitations; they are opportunities for ingenious design. Our expertise shines as we reimagine small kitchen layouts, efficiently utilizing every inch of space. Our small kitchen remodels marry design trends with usefulness, transforming compact spaces into havens of functionality and style. By blending smart storage solutions and captivating design elements, we make sure your small kitchen becomes a testament to innovation.
Bathroom Design Redefined
Bathrooms are personal sanctuaries, and our bathroom design services reflect that sentiment. We can create intricate tile patterns and stunning focal points through granite or marble countertops. At Holland, we infuse luxury and style into every detail.
We can optimize storage with wall cabinets and a harmonious blend of materials. Our installation services elevate your bathroom into a space of relaxation.
Experience The Holland Difference
Our dedication to quality is unwavering. We align each cabinet, countertop, and design element to ensure a flawless fit and finish. With materials like marble, granite, quartz, and stainless steel, our craftsmanship shines through.
With Holland Kitchens & Baths, you're not just getting installation services. You're gaining a partner who brings your vision to life with unwavering precision and creativity. Experience the power of impeccable installation – the Holland way.
Ready to Transform Your Space?
Embark on a journey of transformation with Holland Kitchens & Baths. Since 1986, our team has proudly turned houses into dream homes.
Are you ready to unlock the full potential of your kitchen space? Together, we can bring your vision to life. Connect with our experts today at 860-236-3111 and take the first step towards a home you're proud of. Your dream space awaits!