Professional Bathroom Remodeling Near Newington CT
For All Your Bathroom Remodeling Services, Holland Kitchens & Baths Can Help!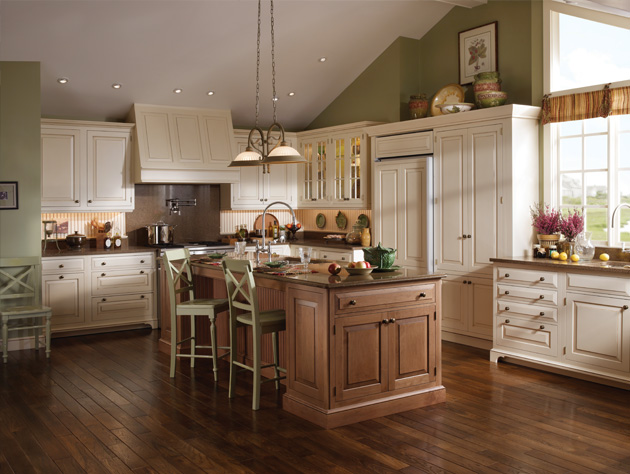 At Holland Kitchens & Baths, we have the award-winning designers and craftsmen to create a kitchen beyond your dreams.It doesn't matter if your budget is tight, or you have a "problematic kitchen" - we have the team available to ensure that your next remodeling dream becomes a reality!
If your remodeling dreams extend beyond the kitchen, fear not - at Holland Kitchens & Baths our quality craftsmanship can be applied to any home project: bathroom, bedrooms, additions, and more!
---
Kitchen Remodeling Services Near Newington
Why settle for a cookie-cutter design when you can have a kitchen that truly matches your family's style and needs? Holland Kitchens & Baths has a qualified staff of award winning designers and craftspeople to make the custom kitchen of your dreams come true. From a simple kitchen renovation to a problem layout with a tight budget - we are the high-end provider for your entire kitchen remodeling needs.
Holland Kitchens & Baths will provide the best in customer service and guidance, lending you their creativity and expertise to make your ideal custom kitchen a reality. We specialize in turn key service and will stay with you throughout the remodeling process. It all begins with a plan; discuss your needs and wants with your family, decide on a budget, and browse our gallery to see some of the many kitchen design options that are available to you. You can also put together a scrapbook of pictures and images to act as inspiration for your design.
---
Bathroom Remodeling Services Around Newington
The bathroom of every home must be comfortable, clean, and beautiful. Blow your guests away with a beautifully designed bathroom that blends well with the rest of your home, but is still highly functional and efficient. Holland Kitchens & Baths has a qualified staff of award winning designers and craftspeople that will work closely with you to ensure your bathroom remodeling needs are met.
Bathroom remodeling allows us the opportunity to showcase our design capabilities, as well as our unique craftsmanship. Remodeling contractors are only as good as the work they've completed and the services they have provided you. For decades, Holland Kitchens & Baths has expert construction and remodeling solutions that work for all parties involved.
Bathroom Remodeling Tips From Our Expert Remodeling Contractors:
Install Quality Shower Heads
While this may seem insignificant or mundane, high-quality shower heads can transform your bathroom into a spa-like experience. One of our design specialists can help you measure your space in relation to your needs.
Create a Beautiful Sink Area
Sinks and faucets have evolved over the years into extravagant pieces that are the focal point of the bathroom. Install a sink and faucet that best fits your style and personality. Our design specialists can walk you through our showrooms and go over the types of sink and faucet combinations we have available.
Avoid Blindly Purchasing Materials
At Holland Kitchens & Baths, we have showrooms set up for the purpose of your coming in and seeing what your new bathroom will look like before you purchase. One of our design experts will provide hands-on experience that is invaluable.
---
Home Remodeling Contractors Near Newington Area
As remodeling contractors, we can handle the entire project or any portion you may need help with. If your kitchen is too dark, we can design and install a totally new lighting plan. Want to add a 2nd sink in the kitchen, no problem! Install a heated tile floor in your bath, we do it. At Holland Kitchens & Bath, we have the years of experience and the talent to handle all of your remodeling needs.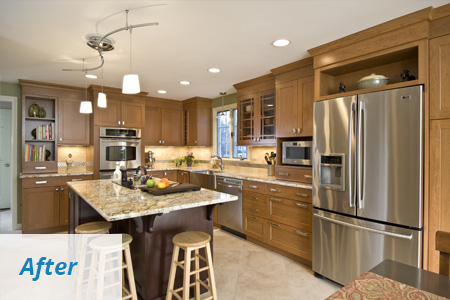 ---
Reviews:
Thank you for sending the pictures of our "old" kitchen. We definitely achieved our goals of getting better lighting, a lighter floor, and more functional cabinets. We also want to thank you for your patience with us. Having never built or remodeled, we were new to everything. We had no clue as to the time the whole process takes. We appreciate the way the staff of Holland Kitchens attends to every detail. The contract was also a checklist to know what was to be accomplished by the subcontractor. It was a learning experience and that's what teachers (even retired ones) love to do - learn! It was a long process but, as you predicted, well worth it! Our thanks to everyone - you, John, Ed, Dan, Rob, Keith, Jason, Kevin, Henry, Joe - for giving us a kitchen we like to work in every day. Janice and Gene
We are so happy with the kitchen. Your design ideas worked so well and you knew immediately what was appropriate to us. We can't say enough about how easy you and all the Holland folks are to work with. Let us know if we can provide recommendations! Stop by in a couple months to see how the painting is going. Larry & Anne
---
For the best bathroom remodeling services, Holland Kitchens & Baths is your answer! With over 30 years of experience and results that showcase our creativity and expertise, we're sure that your new kitchen or bathroom design will look beautiful! We proudly serve the greater New Hartford and Newington areas, so contact us to start the design process today!